Leucism in Blacktip Reef Sharks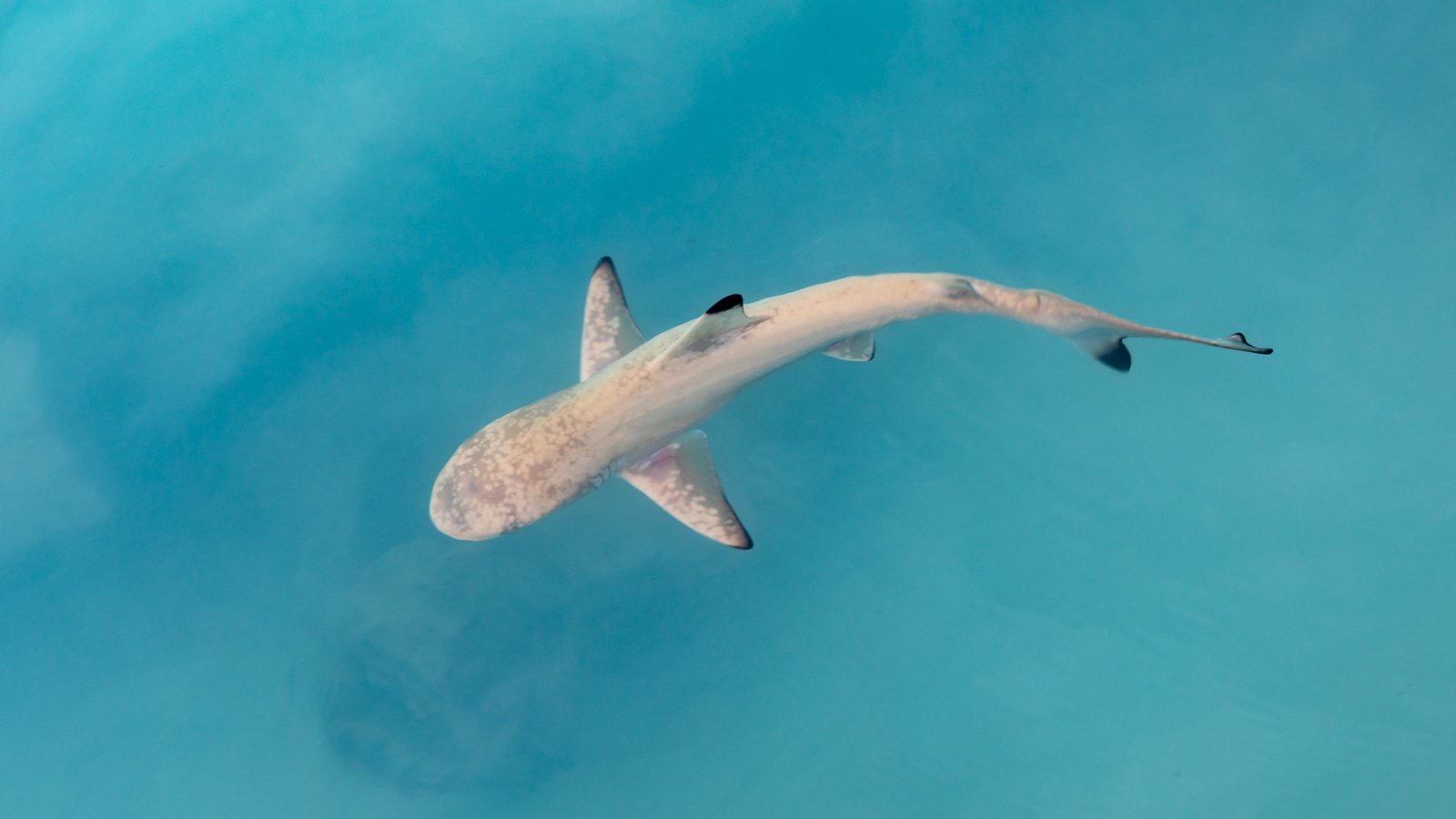 Leucism is not a word we come across every day, in short it is a genetic skin disorder.
The Beginning

The following short email sparked our curiosity "FYI – something interesting :)". In the attached message Gibbs Kuguru introduced himself as a Ph.D candidate at Wageningen University, Netherlands. He wanted to explore Leucism in blacktip reef sharks in Baa Atoll. He was curious to know if we had seen any and if we were interested in a collaboration. Thank you to Kihaa Maldives Management for forwarding this mail and giving me the thumbs up to pursue it. Several messages and Skype calls later we finally met in January 2020 during the BOOT show, a yearly exhibition for boating and diving enthusiasts in Düsseldorf, Germany.
The First Blacktip Reef Shark with Leucism
At the time of our first contact we had never seen a shark that exhibited the markings Gibbs was looking for. To find out more I reached out to some colleagues. Reports about sightings in Ari, North and South Male Atoll came in but without any dates. Oceanoholic Maldives, a facebook group of marine biologists throughout the archipelago, published an article to find out more. On 18th August 2019 Marc took this photo of a juvenile blacktip reef shark in the Kihaa Maldives lagoon. Our very first sighting of a shark with the markings of Leucism. For more of Marc's photos check out our gallery.
The Research Permit
In the Maldives several projects for turtles, groupers and manta rays exist but this is a first for this kind of research. Gibbs Kuguru's expectation is, that the problem could be genetic, physiological, climate related or higher sea temperatures. This abnormal pigmentation on sharks places them at greater risk of predation and leaves us with many questions.
To start the project we needed to submit an application with the Ministry of Fisheries and navigate through many guidelines. Here are just a few:
Outline of the research
CV's of the researcher and his assistant, our marine biologist Ariana
Preparation of educational programs for local schools
Indications of the make and capabilities of equipment used e.g. tags, nets, sampling gear, drills, probes, acoustic receivers
Details of the research area
The Project
Gibbs will travel to different Atolls where black tip reef sharks with Leucism have been spotted, collect skin samples and then analyze them. Details of his study will be submitted and published. Regular updates will also be available on our Facebook page as well as on our website. Due to the COVID-19 outbreak unfortunately the project is on hold until travel will be safe again. The plan for a possible start is September 2020. We can't wait to embark with Gibbs on this very interesting journey.
The Shark Projects article 'Sharks adapting to humanity' from 18th of June 2020 is a very interesting read on this very subject.
Who is Gibbs Kurguru
Shark geneticist Gibbs Kuguru is a candidate for Doctor of Philosophy in Genomics – "Inbreeding and the Unexpected Presence of Leucism in Carchahinus melanopterus"
Gibbs received his Masters in Molecular Biology at Stellenbosch University, South Africa and his Bachelor of Science in Pre-Medical Biology at John Brown University, Arkansas, USA.
June 28, 2020