Snorkeling with Blacktip Reef Sharks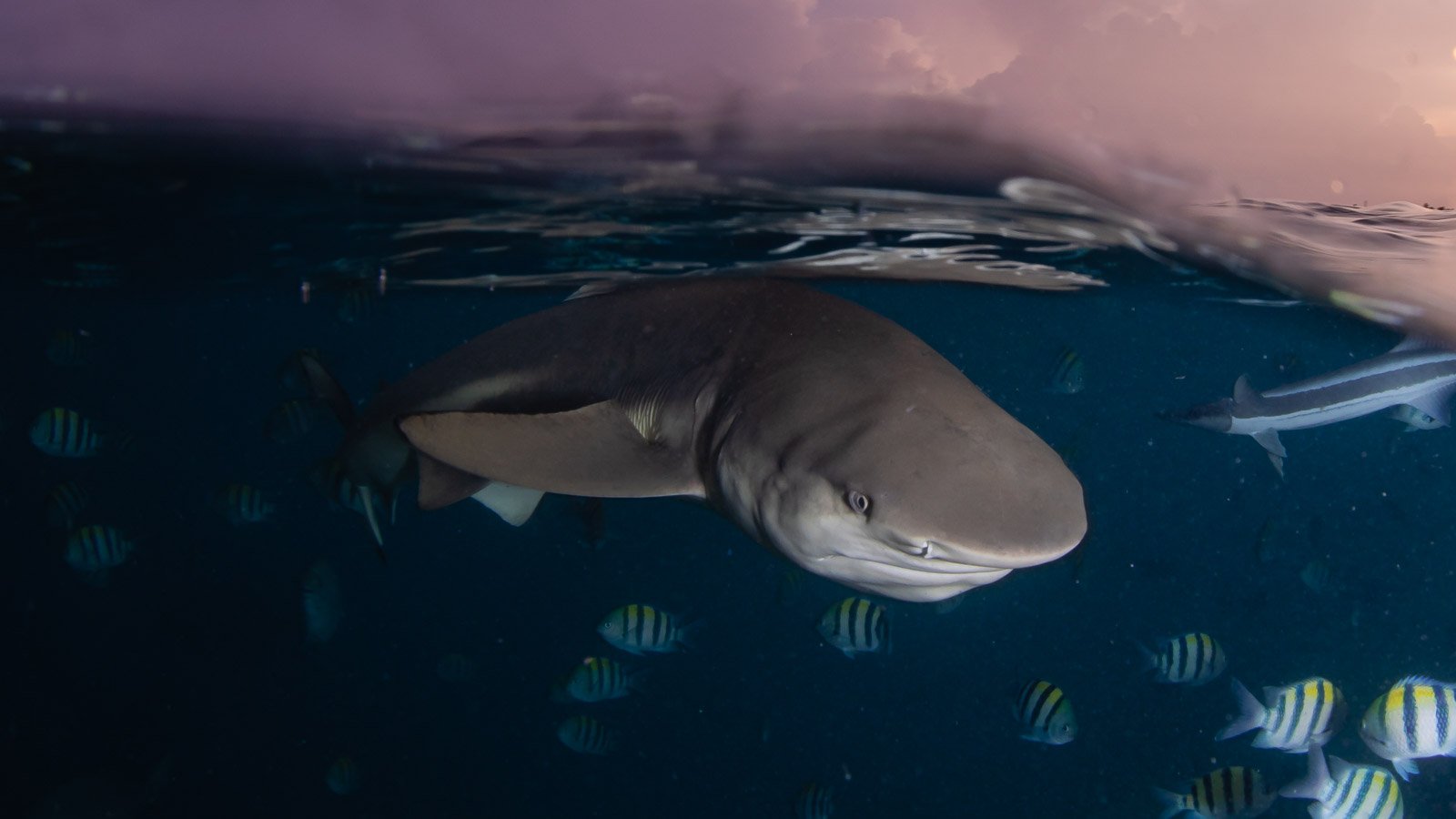 If you like, you can go snorkeling with blacktip reef sharks in the Maldives. In almost every island lagoon are little black tip reef sharks cruising in the shallows. Often you can see them swimming close to shore with their dorsal fin sticking out of the water.
This blacktip reef shark came too close
Last month during our 2 tank dive trip, Lindy a diver from the US was telling me that she went snorkeling along the reef starting from her water villa. However she was worried to go again on her own, as she had encountered huge blacktip reef shark that came way too close. Strengths is in numbers, so the following day I joined her to go snorkeling with blacktip reef sharks. Just 1 minute before we encountered the shark she lifted her head out of the water to tell me 'around this area I saw the shark' and the next minute he was there. Lindy was right, he was pretty big and curious but now the next question arises, are they territorial? And in fact, they are. Studies show that they patrol a home range of .55sqkm and can grow to a maximum size of 1.6m.
Blacktip reef shark fun facts:
You can easily identify a blacktip reef shark by the prominent black tips on its fins.
The blacktip reef shark usually patrols over reef ledges and sandy flats. It grows to a maximum size of around 1,6m. Studies show that it has a home range of .55km square and. stays within the same local area for up to several years at a time.
It feeds on small fishes, cephalopods and crustaceans and as a Sunday treat might eat sea snakes and sea birds.
They have usually 12 rows of teeth on either side of their upper jaw and 11 on either side of their lower jaw.
Females give birth to 2 – 5 young biannually and depending on regions are pregnant from 7 – 16 months.
They are skittish and difficult to approach. Blacktip reef sharks are not dangerous to humans, unless food is involved. It is timid and easily frightened away by swimmers.
Smaller younger sharks can even fall prey to groupers. Newborn pups measure 40 – 50cm but also as small as 33cm.
They are not a targeted catch or not considered commercially important. The IUCN (International Union for conservation of Nature) has assessed them as near threatened. They are widespread but overfishing has caused their decline in many areas. As the reproductive rate of blacktip reef sharks is low, the capacity for recovery from depletion is limited.
They are popular for public aquariums because of their stereotypically shark-like appearance and ability to breed in captivity and modest size.
Shark Research
March 2021 is now the new schedule for shark geneticist Gibbs Kuguru to start his study on Leucism in Blacktip Reef Sharks. We can't wait and are really looking forward to be part of and help him with his research. If you would like to learn more about his research check out our blog from June.
Shark Project
Just before Christmas Anke from the Shark Project Switzerland was diving with us here at Brennia Kottefaru. During our dives together we saw nurse sharks, grey reef sharks and a white tip reef shark. Although Anke is an avid shark conservationist, she was just as happy to spot the critters. She is planning to visit us again in 2021 at Kihaa Maldives to see how the shark research is progressing as the Shark Project Switzerland is one of the sponsors for Gibbs' research.
January 9, 2021