Long skinny fish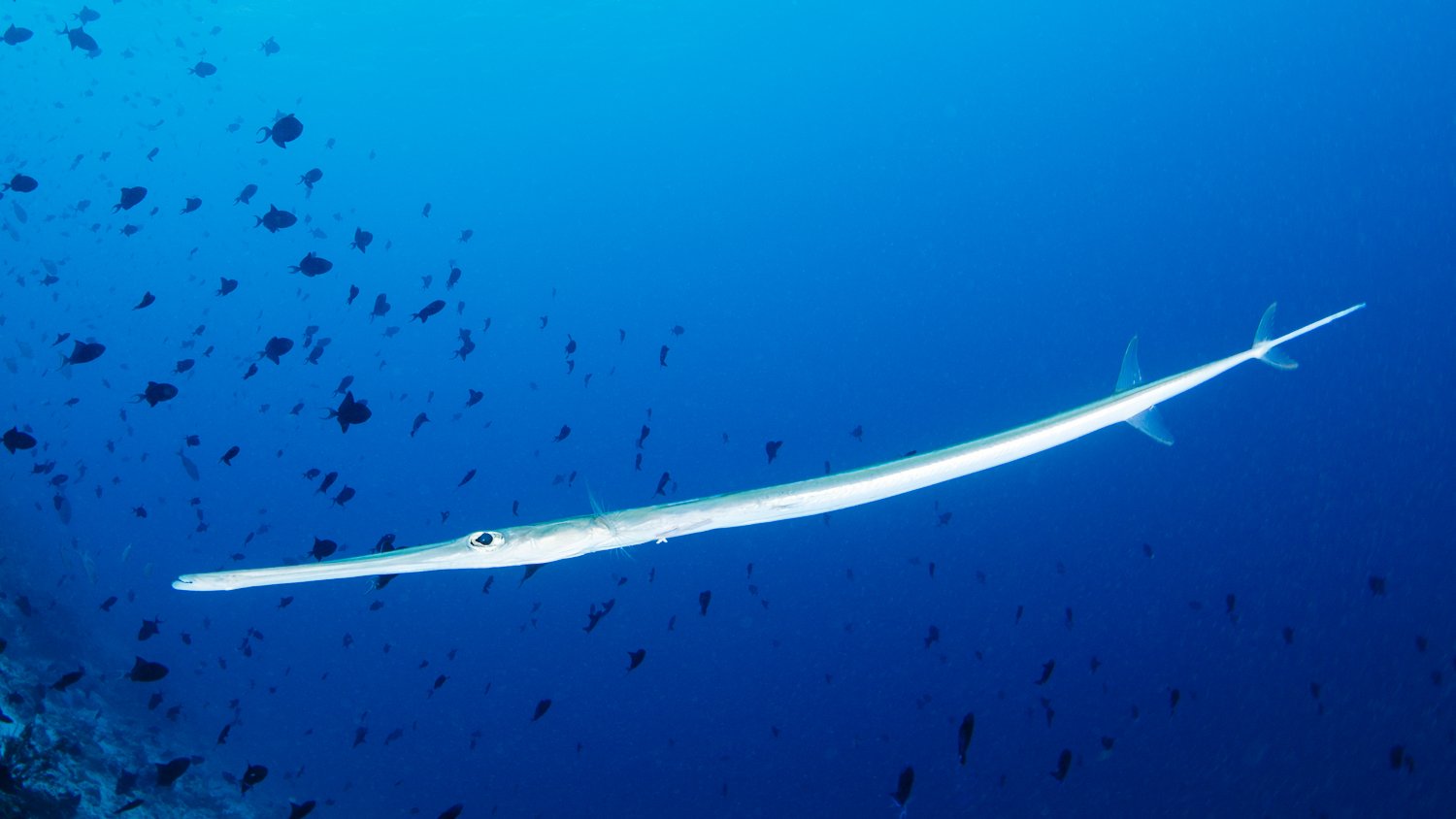 There are many species of "long skinny fish". These are some of the descriptive words that our guests will use, to ask us what type of fish they saw while out diving or snorkelling. We then have to ask them questions so that we can narrow it down. It is usually one of the following species.
Flutemouths
These fish look almost see-through in colour. They are very long they can reach up to a meter and skinny. They have big eyes just before their long flute shaped mouths. We usually find flutemouths hovering over the bottom of the reef in schools. Some are quite curious and follow divers along the reef. There is sometimes confusion between flute mouths and needle and trumpet fish but a distinguishing feature is their long-pointed tails.
Needlefish
Needle fish have that same transparent colouration as the flute mouths. They can also reach lengths up to 1 meter. You will always find needlefish in schools usually just under the surface of the water. They have a long shaped looking mouth. This is why it is important to always keep your torch light below the surface during night snorkelling and diving. These fish are attracted to the light and can jump out of the water. You do not want to get stabbed by one of these guys!
Trumpetfish
Trumpet fish are small in comparison to the needle fish and flute mouths. They grow up to 60cm. They range in colour from bright yellow, to browns and blacks. You will find these fish among areas of reef similar colours to themselves. They use this kind of camouflage to help catch prey. They have a long similar mouth shape to the flute mouth but no pointed tail.
Pipefish
Pipe fish are the smallest of these species, to the point that you would almost have to be a diver to spot them! The longest is 30cm, but the majority that we see are between 10 – 15cm. Most of the ones we see are white or transparent, with a striped patten that runs horizontally along their bodies. There are also a group of pipe fish called 'ghost pipefish", read about them here!
Hopefully this allows you to tell the difference and help you to identify the "long skinny fish"!
October 1, 2023