Squid or Cuttlefish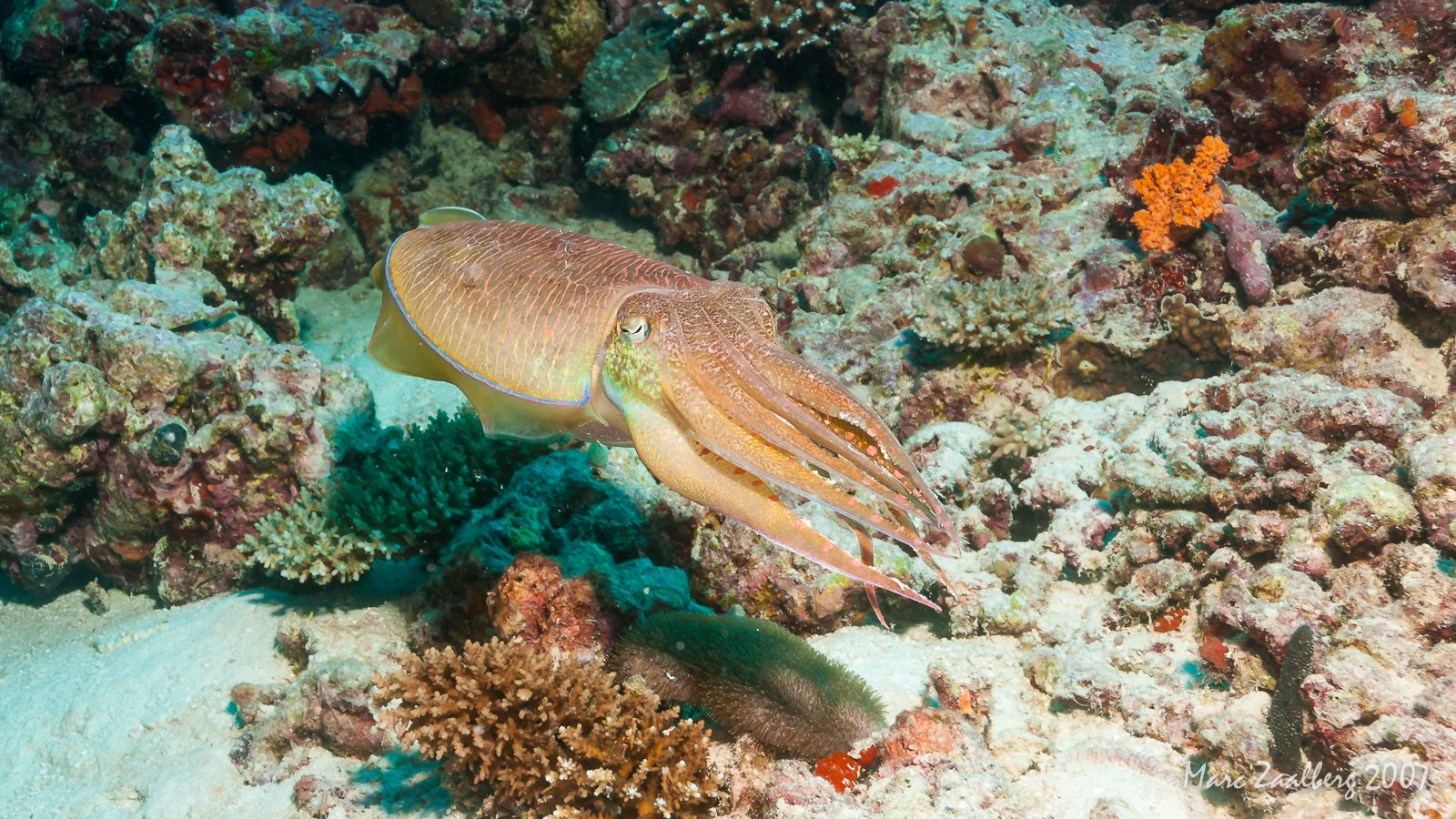 Squid or Cuttlefish …wait calamar? What is a sepia then? …
This is something our dive crew was thinking about recently, after watching a pair of squid from our jetty.
Squid can also be known as calamar in some countries (think calamari). Cuttlefish are sometimes referred to as sepia. Sepia is the name of the most common cuttlefish usually found in Europe
It is not always easy to tell the cuttlefish and squid apart, unless you know what to look for. The reason they look similar is because they are closely related. They are both Cephalopods, part of the Mollusca phylum.
Cephalopods
Octopus, nautilus, cuttlefish and squid are all classed as cephalopods. They are the most intelligent invertebrates, most can change colour, and they all have a minimum of 8 arms. Most of them have soft bodies, the only exception the nautilus (which has a chambered shell). But they all evolved from a common hard-shelled ancestor.
Squid or Cuttlefish
Here are the differences to look out for:
Squid have a longer more elongated tube-like body. Cuttlefish have a more oval shaped body which looks a lot wider. This is due to what is inside their bodies, squid have a long feather shaped flexible structure called a pen. Cuttlefish have a wider more rigid structure (internal shell) called a cuttle bone. You can find these along the beach sometimes.
Squid move faster compared to cuttle fish. Here in the Maldives, we tend to see squid in the shallow along the surface of the water. Cuttlefish we find down on the reef.
Their eyes are also different if you get close enough to look! Squid have a round pupil, whereas cuttlefish have one in the shape of a 'W'.
Squid have two tentacles that are longer than the rest of their arms. They use these tentacles to hunt and catch their prey. The cuttle fish also have a tentacle but it is the same length has the rest of its arms.
Hopefully this helps you identity what you are seeing next time you spot one of these fascinating creatures!
January 10, 2023